shopping_cart
0
$0.00keyboard_arrow_down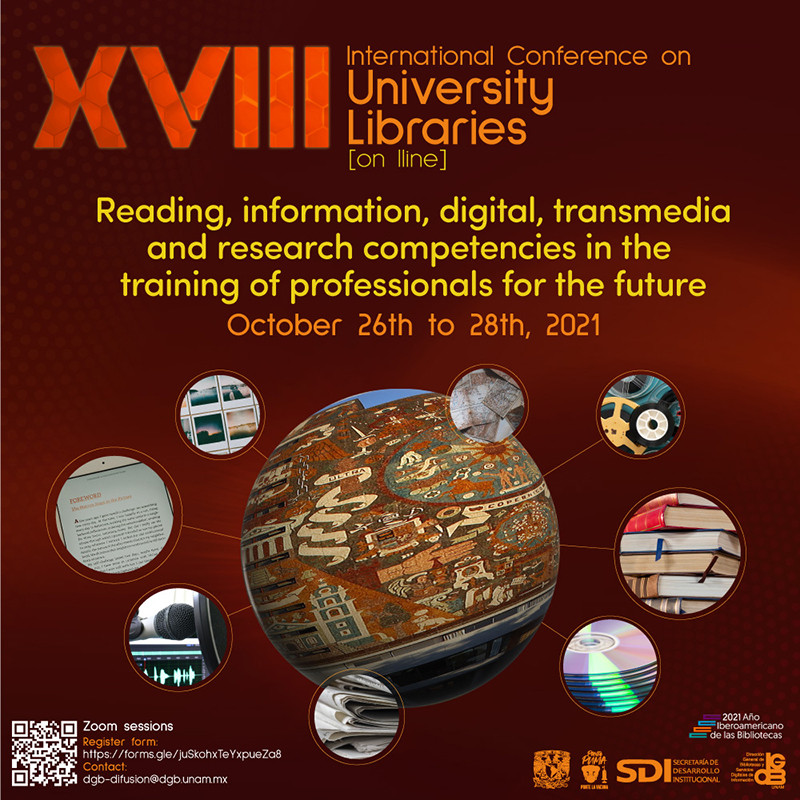  
Foreign Fee: XVIII International Conference on University Libraries
To update the information professionals from the university community, librarians and the general public, on cutting-edge topics and trends in the library and specialized information fields and exchange opinions on the way in which professionals plan and manage their actions towards the immediate future.
The General Directorate of Libraries and Digital Information Services of the National Autonomous University of Mexico invites you to participate in the XVIII International Conference on University Libraries, whose objective is identify and analyze the multiple competencies that professionals facing the future will have to develop in order to manage information in its various forms and transform it into learning, knowledge, innovation, solutions to complex problems, communication and lifelong education, in order for the university library to renew its training programs aimed at its current communities with a view to the new challenges and opportunities of the World 4.0.
The event will be held online through the ZOOM platform
Registration fee: USD $130
Registration deadline: Friday, October 22nd, 2021
October 26th to 28th, 2021
From 09:30 to 15:00 [Central Mexico time (GMT-5)]
How do I sign up?
1) Fill in the registration form: https://forms.gle/L6Qwot2XbQioXm4FA
2) Make the online payment on this Web page (Plaza Prometeo)
3) After making the payment, send a copy of the corresponding receipt to the email: dgb-difusion@dgb.unam.mx, including your full name (as you put it in this registration form)
4) Your registration for the Conference will be confirmed by return mail and, on Monday, October 25, you will be sent your access code (personal and non-transferable) to the event, as well as some recommendations for the event in question
If you have any questions about the payment procedure, you can check out this tutorial (only in Spanish).
A digital certificate of this event will be sent with a 100% attendance to the sessions.
Note: The certificates will be sent approximately 2 weeks after the event.
If you have any questions and / or comments, please contact us at the following e-mail: dgb-difusion@dgb.unam.mx.